Guarantee a perfect romantic evening with this game for couples
Discover the best naughty game for couples! Rise to the challenge with Games for Couples and get ready for a hot and heavy evening.
This app, a new take on the classic Truth or Dare game with 4 levels of difficulty and dares ranging from easy to extreme, will rekindle the flame in your relationship.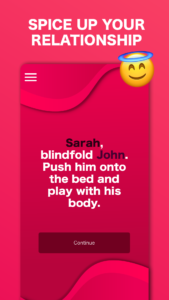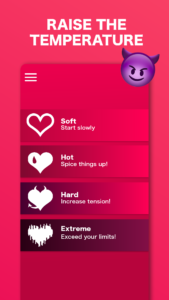 What users think of the Game for Couples app
Wonderful for an intimate evening
The perfect app for a romantic evening…it is worth every cent! There are so many different levels with dares ranging from very easy to the most extreme.
An app for couples that can't be beat 
This app is really well done. We really like responding to the questions and the dares are fun. It's great for new couples as well as those looking to add a bit of spice to their life.
The best naughty game for couples
This app is perfect for couples. It gives us the chance to try out new things and learn about what we're looking for in the bedroom. Can't wait to play again! 
A great intimate Truth or Dare
I highly recommend this app. The various levels and different dares guarantee a great game for couples. It's also super user-friendly. Nothing but good things to say about this app.
A sexy and fun couple game 
My partner and I aren't used to using this kind of app, but we wanted to add a bit of spice to the bedroom. It's been a complete success! The game's intensity is stepped up a notch with every level that helps couples rekindle the flame while having fun. I'd recommend.
Perfect sex game for couples
I was looking for an exciting Truth or Dare game for couples and have not been disappointed. The extreme level can get really intense and makes things super steamy! Special mention for Naughty Dice