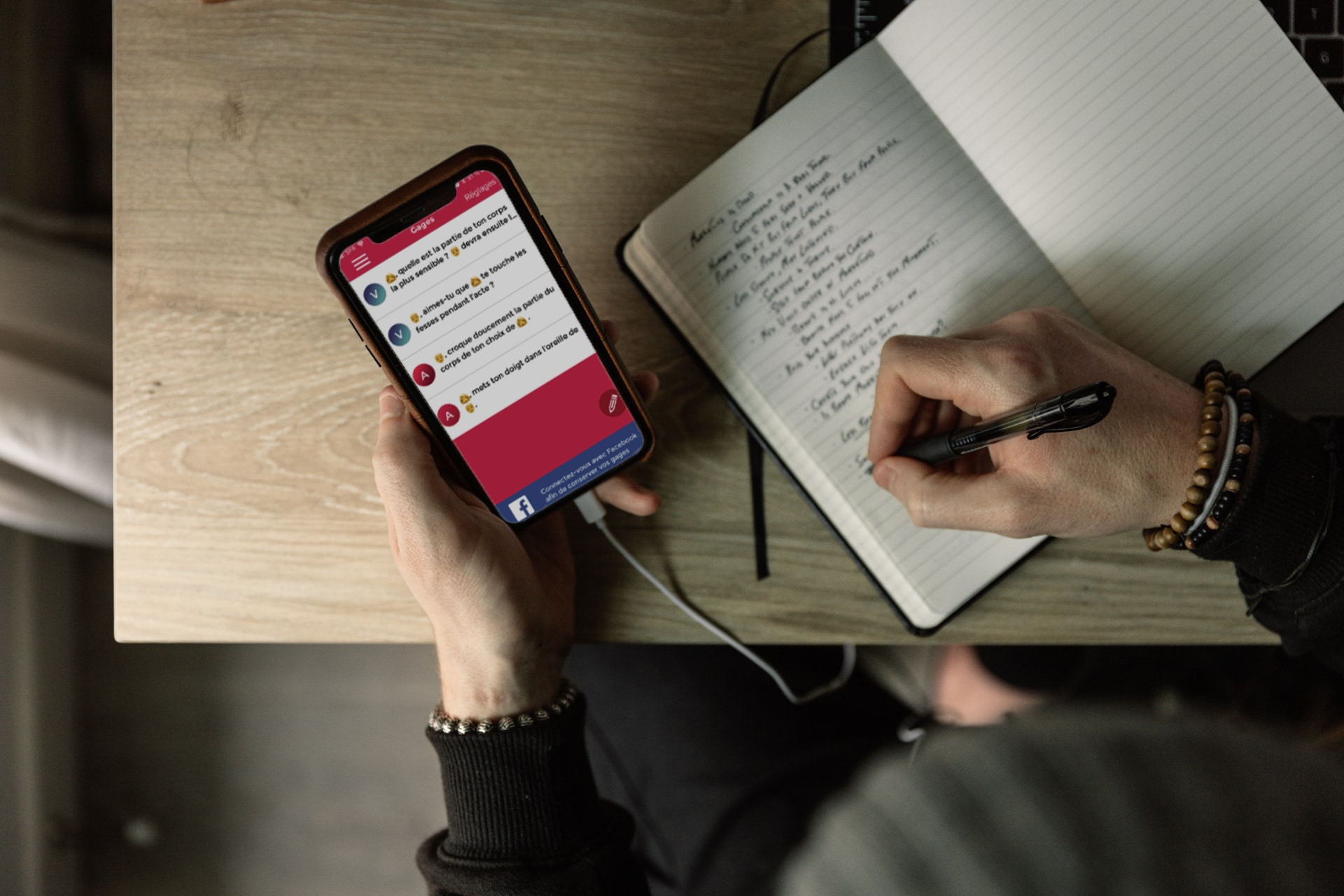 Customized Dares: What You Should Know!
Want to add your own truth and dare challenges! Now it's possible with the "Customized dares" feature!
Here's how it works
👨 indicate a man
👩 indicate a woman
😏 indicate a random player (man or woman)
You have to start to write your dare with an emoji. If you add 👩, then the dare will always be given to the woman.  And if you add 👨, it will always be given to a man. If you add the emoji 😏, the game will select a random player. If your dare include more than two players, you can add as much as you need. When you start, the emojis will be replaced by the players' names you've entered.
Dos
Write your dare like this: 👩, put your finger in 👨's ear. It will show up like this in the game: Julie, put your finger in Tom's ear. Don't forget, you can only add two at a time!
Make sure you place your challenge in the correct category of "Truth" or "Dare" and appropriate level!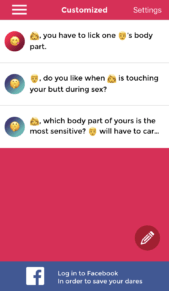 Don't
Use the impartial emoji if you want to indicate a specific gender. For example: 👨, give a surname to 😏's penis. This dare could show up like this: Tom, give a surname to Julie's penis. (or otherwise but the game can't guess)
Use twice the emoji ? thinking it will replace by the same name. For example: "👨, put your finger in 😏's ear. 😏 will have to suck it." This will not work.
Save Your Customized Dares
Make sure you connect to Facebook before you start to write your customized truth and dare challenges! By connecting to Facebook, your creations are guaranteed to be saved. And don't worry, nothing will ever be published on your profile, and we do not collect any of this information. Your use of this game will be completely private!

Play with Your Dares
Choose to play with only your dares! Just go to "Customized Dares" from the menu, select "Settings," and activate the option. It is best to wait until you've made at least 100 customized dares to activate this option, otherwise you won't have much to play with.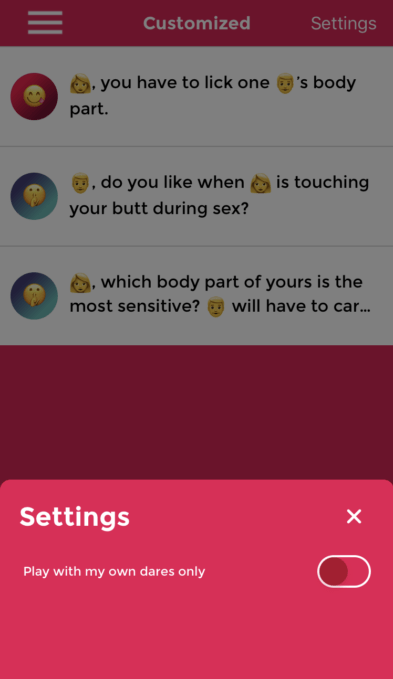 Want to share some of your ideas on how to make the Customized Dares section even better? Send us a message on Facebook Messenger!
And check out more articles about our app's functions here.